Welcome to Sokrates Greek Tavernas
(Horwich Bolton & Sale Cheshire)
Sokrates Tavernas are dedicated to providing a high standard of cuisine from Greece, Cyprus and the Eastern Mediterranean.
The atmosphere is cosy, informal so people can relax and enjoy the wonderful flavours of Mediterranean cooking. The best fresh ingredients are used to cook our meals which are prepared in the authentic and traditional manner of the regions they originate from.


!! TAKEAWAY FOOD !!
Both our restaurants in Horwich Bolton (01204 692100) and Sale Cheshire (0161 2820050) offer takeaway food for either collection or delivery.
Orders only via telephone.
For weekends please order in advance.
The Main Restaurant/A' la Carte menus are used for Takeaway orders which includes the Greek Meze and the Dessert menu
Special offers are not available for Takeaway orders.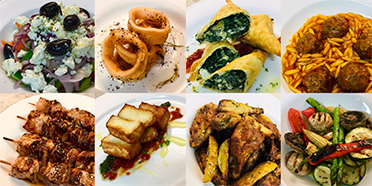 GIFT VOUCHERS AVAILABLE
Gift vouchers can be purchased from both restaurants at Horwich and Sale. These can be picked up by visiting the restaurants or can be sent by post.
The focal point of the menus is the 'Greek Meze' which is always the most popular choice with customers. This is a selection of small tapas-style dishes and gives people the opportunity to try a variety of flavours over an hour or so with some nice Greek wine or beers.
The Meze can also be tailored for vegetarians/vegans or Gluten Free but please pre order preferably at least a day in advance.
Click here to view our special offers
Alternatively, there is a wide selection of Appetizers and Main Courses in our A' la Carte menu like the popular Mousaka, Dolmathes (stuffed vine leaves), Kleftiko (lamb in the oven) and Stifado (beef casserole) as well as some wonderful and succulent kebabs (Pork/Chicken Souvlaki and Lamb Koftas) cooked on real charcoal.
Check the individual menus of the two restaurants (Horwich and Sale) as there are some differences between them.
Our desserts are home-made like Baklava (filo pastry with walnuts and almonds) and our extremely popular Greek Yogurt Cheesecake.
Sokrates Taverna Sale:
25a Northenden Road, Sale Cheshire M33 2DH
Tel: 0161 2820050
Opening Times:
Sunday 3pm - 10pm (last food orders 8:45pm, for Meze 8:30pm)
Monday to Thursday 5:30pm - 11pm (last food orders 9:00pm, for Meze 8:45pm)
Friday & Saturday 5:30pm - 12pm (last food orders 9:30pm, for Meze 9:15pm)
Sokrates Taverna Horwich:
80-84 Winter Hey lane, Horwich Bolton, BL6 7NZ
Tel: 01204 692100
Opening Times:
Sunday 4:00 pm - 9:30 pm (last food orders 8:00 pm)
Monday to Thursday 5:00 pm - 10:00 pm (last food orders 8:15 pm)
Friday & Saturday 5:00 pm - 10:30 pm (last food orders 8:30 pm)
Sokrates Greek Tavernas in Sale and Horwich are sister restaurants to Bouzouki By Night in Manchester city centre.